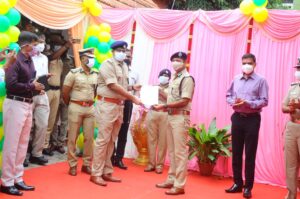 G. Shashank Sai, the DCP of Mylapore, rejoined official duty on August 10 after recovering from the virus.
To celebrate the occasion, a small function was organised at Mylapore police station campus, Monday morning.
Said a staff from DCP's office, "Commissioner of Police Mahesh Kumar Aggarwal presided for the event. He presented a certificate of appreciation and a bouquet to welcome the DCP."
All regulations with respect to social distancing and usage of masks were followed during the event, he says.
The DCP, who works out of his office at this police station on Kutchery Road tested positive for the virus in mid-July.
Following this, he was under home-quarantine until he recovered recently.