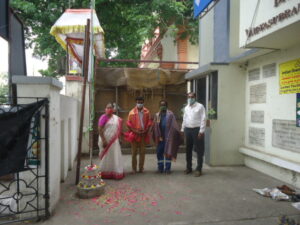 Independence Day event was held at The Mylapore Academy on August 15, and it was simple and snappy.
Maridoss, a street beautifier employed by the Corporation of Chennai hoisted the national flag. He was honoured with a gift and a shawl on the occasion in appreciation of his services over ten years in this locality, besides being a frontline volunteer during the Covid 2019 pandemic.
D. Sivakumar, former employee of BSNL, Mylapore Telephone Exchange was also honoured for being a front line volunteer as member of the Home Guards of the City Police attached to the Teynampet Police Station.
Others in the photograph are Dr. Booma Srinivasan Treasurer and Suriyanrayanan K J., Secretary of the Mylapore Academy.