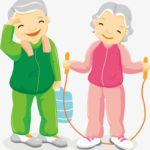 Physiotherapists at Kauvery Hospital in Alwarpet suggest a few simple exercises for senior citizens who are stuck at home. And who may want to keep fit in these troubled times.
Physiotherapist Selvambikai says these exercises must be done daily at home and has put out an instructional video on the Facebook page of Kauvery Hospital.
Among the exercises are – moving your head towards your shoulders, one side at a time, as if the ear needs to touch the shoulder ( 10 times in one go) and to rotate the neck from one side to the other ( 10 times in one go).
The therapist also says exercising the hip and the knees is key to being fit. So are exercises that help seniors to maintain their balance while walking inside their homes or campuses.
The short video on this therapy is posted at the Facebook page of Kauvery Hospital. – https://www.facebook.com/kauveryhospitalchennai/?epa=SEARCH_BOX