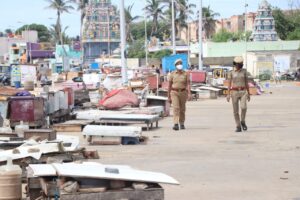 Yet another total Sunday lockdown went off the way the authorities wanted – quiet, all shut-down and hardly any traffic on roads and streets on August 2.
Since this morning, there were hardly vehicles or even people on what are busy roads – TTK Road, Kamarajar Salai ( off the Marina), Royapettah High Road and Mandaveli Street, It remained this way all through the day, with people staying indoors.
Having got used to many a Sunday total lockdown, people use the weekends to do their shopping of essentials.
Police staff patrolled what are busy markets like the  fish market on Marina Loop Road, ensuring that hawkers stayed home.
The lockdowns have been enforced as one of the steps to contain the Covid pandemic.