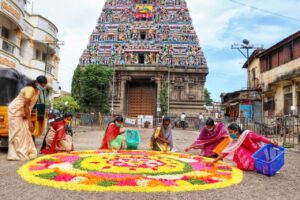 The staff team of Giri Trading store in Sannidhi square in front of Sri Kapaleeswarar Temple spent time this Monday morning to design a large pookalam in the street space to mark the celebration of Onam festival.
They dug into cases of a variety of flowers to work on the floral design in the space in front of the store which is well-known for sale of all things to do with Hindu religious needs and products, music, books and utilities.
Since the traffic and movement of people is thin in the morning, the women could undertake the creative work easily.
The temple though remains closed since late March in accordance with pandemic time regulations.