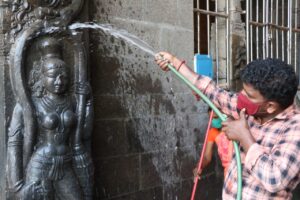 Workers at Sri Kapali Temple have been busy this Monday morning like no other day because they have to get the temple ready in anticipation of its re-opening on Sept 1.
Some 6 to 8 workers were seen using hose-pipes to water-wash the mantapams in the campus while others were shifting utilities that are stationed at various shrines inside.
Covered areas / halls were also swept and given a water wash.
Temple office sources said that they were yet to receive orders from the HR & CE Department on the re-opening and will get to know later this evening, August 31.
This temple, like all other places of worship had to be shut down in late March when the pandemic broke out locally. Daily and special pujas however have been carried out by the priests here.