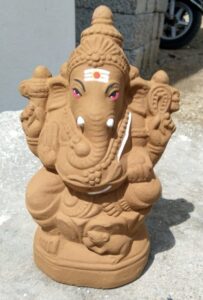 Sunny Bee supermarket in Alwarpet that is known for its organic veggies and fruits, is now selling seed Vinayaka sets for Vinayaka Chaturthi festival.
Priced at Rs 275, the kit consists of 11-inch seed Vinayaka idol, pot, umbrella, erukampoo garland, arugampul and a cloth bag.
A variety of fruits (wood apple, guava, jamun, pomegranate), flowers (sambangi, arali, mullai, lotus, rose) leaves (mango, coconut, banana and betel leaf/nut) and herbs (vilvam, thulasi, marugu, errukam ellai, arugampul, erakum poo ) used for Vinayaka Chaturthi are also available for sale here.
At 554, TTK Road, Alwarpet. For details call 9209288855/9209288855
Picture: used for representation only