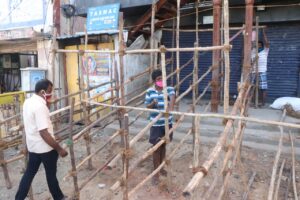 TASMAC-managed, state-run liquor sales shops in the city are scheduled to open on Tuesday, August 18.
On Monday, contract workers were seen busy making special preparations for crowd management at the local area shops like the busy one opposite the main entrance to the Thirumylai MRTS station.
Casuarina poles were used to set up barricades for people to form queues.
The state said only 500 tokens will be issued at each shop per day though the shops will be open through the day.
Some people have been critical of this move of the state, asking if people's health is being exposed to dangers in the state's move to gain revenues from the sale of liquor, which contributes a big measure to its revenues in ordinary times.
Liquor shops inside malls and large complexes will have to remain closed. But TASMAC runs what it calls Elite shops in neighbourhoods where a variety of liquor, including foreign brands are sold. One such store in located in R A Puram.