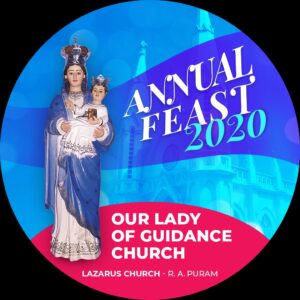 Our Lady of Guidance Church also commonly known as saint Lazarus Church in R. A. Puram,  is all set to celebrate this year's the annual feast in honour of Mother Mary. It will be from Aug 21 to 23. A short format.
This year, due to the coronavirus pandemic situation, parishioners and devotees are restricted from all religious services and Holy Masses.
They will have to watch on the internet what are pre-recorded Masses telecast on Arputhar Yesu TV on the three days – Aug 21 to 23, 6.30 pm onwards.
Parish Priest Rev Fr. Y. F. Bosco has requested all parishioners to decorate either the statue of Mother Mary or a picture of Our Lady in their homes and also to pray the Our Lady of Guidance Novena prayer.
In ordinary time, the flag would have been hoisted on Aug.7 and Mother Mary's feast celebrated on Aug.15.
The grander feast also celebrated here is that of saint Lazarus – this is held in late January every year.
Report by Juliana Sridhar