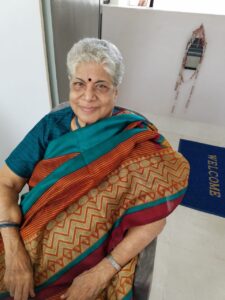 Well-known educationist Susheela Raghavan who resided in Alwarpet passed away on August 17.
Susheela was the last of the ten children of Mr. & Mrs. Bhashyam Iyengar, wife of Major Raghavan and the second daughter-in-law of T. T. Krishnamachari, former finance minister of the country.
Her father served the Military Accounts Department. She moved to her father in law, T.T.Krishnamachari's residence in Alwarpet after marriage and lived for over five decades in R. A. Puram.
She had recently shifted to Alwarpet.
With an M.A. in History from Queen Mary's College and a B.Ed., she went on a Government of India scholarship to the University of Southampton to study geography.
She later got a P.G. diploma in geography from the University of Madras. She was a rank holder right through all these courses.
Her early teaching was at Delhi with Armed Forces Public School (1960-63). She joined Padma
Seshadri Bala Bhavan School while it was still a young school in 1966 and served there till 1978. She
held several posts there and grew from a primary school teacher to become the Directress of the
primary school.
After a brief stint as a part time geography teacher at Vidya Mandir, she worked at
the Krishnamurthi Foundation of India as a senior geography teacher till her retirement in 1994.
She was a member, secretary, president and a pillar of support to The Association of Geography
Teachers of India which operates out of Mylapore.
Her passion for geography was very deep. In education circles, her name is synonymous with
geography. She was an author of geography text and map books, articles and short stories for
children. She demonstrated that if there is involvement and imagination, things around us could
become teaching aids.
She would make a ball a globe, broomsticks – latitudes and longitudes, sand –
mountains, and blue coloured thread – rivers! She could transform any teacher with interest into a
geography teacher. She has an important place in the history of The Association of Geography
Teachers of India for its growth and the network it established.
A teacher to many children and adults for over 60 years through many schools and forums, she won
the hearts of her students with her unconditional love and non-judgmental attitude. Her former
students kept in touch with her and she remembered each one of them, their distinct skills and
talents.
Post retirement, she chose to help many schools and NGOs. The schools she taught at and that she
helped establish have her imprints across many programmes.
She was the Correspondent of Chinmaya Vidyalaya, Madras. She was the Founder Chairperson of
Vidya Peetam, Sholinghur from 1982-1999. From 1995, she was a Trustee of the Akshaya Vidya Trust
that manages the three Vedavalli Vidyalaya School. From 2008, she was a Trustee of the Bhuvana
Foundation that runs Vidya Vanam, a tribal school at Anaikatti.
She was a member of the University Women's Association. She worked closely with the Chennai historian, late S. Muthiah on Madras projects and contributed to the geography portions.
Written by Dr. Bhooma Parthasarathy, Correspondent, Vedavalli Vidyalaya, Ranipet-Walajapet