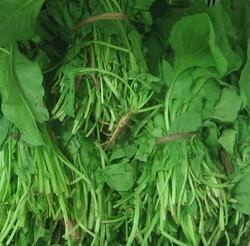 Vegetable hawkers of this neighbourhood, badly hit by the pandemic regulations are doing all that they can to earn their daily bread.
Some of them have closed down their shops and turned into mobile hawkers. The piling rents and slow sales are hurting them badly. You can see them calling out in the neighbourhood streets every morning.
In fact, some avoid the competition inside the greater Mylapore area and travel to neighbouring areas to sell greens, vegetables and fruits.
One R A Puram-based hawker was seen in Adyar this week, moving around the inner streets of colonies moving about in an auto. He had a recording device and speaker which kept playing messages of his sales to get the attention of residents in apartments.
While the auto driver drove at a slow pace, the hawker kept walking, also calling attention to his goods.
"I go to the market at Thirumazhisai at 3 am and keep hawking till noon," he said. "We have to do something to earn for our living."
The makeshift wholesale market was shifted out of Koyembedu inside the city to Thirumazhisai and Madhavaram after a record number of Covid cases were located here. Traders are demanding that the Koyembedu market be re-opened since the makeshift facilities has not helped many traders.