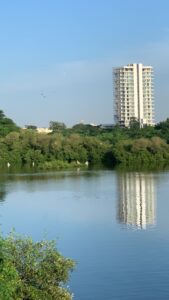 If there is one large space of Nature that can relax a tired mind then it is the Adyar Poonga – the wetland eco-park in south R. A. Puram, just off the Mandavelipakkam neighbourhood.
In the mornings, this place looks serene and calm from the San Thome Causeway side on Dr. DGS Dhinakaran Salai.
Though the park is closed to visitors right now ( visiting is regulated even in ordinary times, there is no unregulated entry to this campus), one can have a clear view of many birds which have made this place their home.
Pelicans, painted storks and other water birds look for feed in the still, clear waters.
Early mornings and late evenings are the best time to go birdwatching from the fringes of the Poonga.
Report, photo by Fabiola Jacob