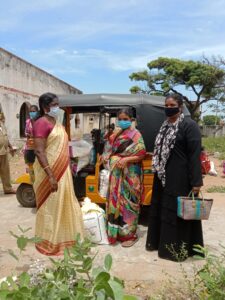 Bhoomika Trust, a city based voluntary body which has been doing some remarkable work the past months since the pandemic broke out, helping the helpless, migrants, daily-wagers and artisans besides people in slums and the less abled, on Thursday, Sept.17 reached out to families in Srinivasapuram who have a less abled person amongst them.
30 families were provided dry rations at about noontime.  These are families who have a handicapped or mentally retarded person with them and have thin income flows this season.
Social worker Kavitha, who also resides in the colony close to the seaside of Pattinapakkam had represented their cases to Bhoomika. She managed the distribution.
The support was made possible by Bhoomika's trustee Aruna Subaramanian.