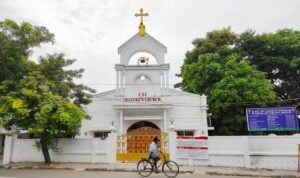 St. Luke's Church on R.K. Mutt Road, Mandaveli is now open for regular religious services.
The church re-opened, a few days ago, after making necessary arrangements to prevent virus spread at its premises.
Says S. James, Treasurer, St. Luke's Church, "Usually, our Church would hold only one Thamizh service on Sundays. Now, to avoid crowding, we are holding three services on Sundays, at 6.30 am, 8.30 am and at 5 pm. "
"Each service will be on for not more than an hour. And Holy Communion is not offered, as per government regulations."
Apart from this, he says, the Church is following all the standard operating procedures prescribed by the government.
"Arrangements are made for people to wash and sanitise their hands prior to entering the church. Besides, we are also maintaining a register, where we record details like name, age, and phone number of all church members attending service."
To ensure social distancing at prayer hall, he says, only two people are seated on each bench. "We have also made markings to seat people at the open space next to church. All services are also telecasted live via TV fixed here."
Also, to make sure only limited members attend each service, the Church has allocated Sunday service timings for people according to the area they live in.
"For instance, people living closeby to church at R.K. Mutt Road, Raja Street and Mandaveli are asked to attend the 6.30 am service. Those staying a little away at Nochikuppam and San Thome are allocated the 8. 30 am service, and those from farther parts of the city are advised to take part in 5 pm service."
A detailed notice regarding this is put up outside the church as well.
People can also view the church's Sunday service on its YouTube channel 'CSI St. Luke's Church Mandaveli'.
The church will be open on all Sundays.