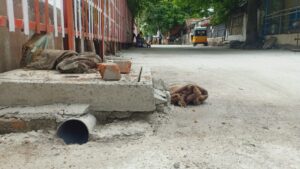 The latest rainwater harvesting effort undertaken around the tank of Sri Kapaleeswarar Temple in Mylapore is coming to a close. It has been executed by Chennai Corporation.
The top layers of the entire stretch of  Tank Street, the street that runs between the tank and the temple's western side was dug up some weeks ago.
Water collection chambers with filters and lead-in pipes were created and constructed at intervals on this long pathway, on the side closer to the tank's wall. The cement re-laid street was set in such a way that it slants westwards.
The idea is to trap and channel all the water that falls here when it rains to the west side, run into the pipes and chambers and empty on to the stone steps inside the tank. This water then will run into the bed of the tank.
This is the RWH plan on which this project has been executed.
The filters in the collection chambers on the street are to trap any waste materials that may flow into the pipes.