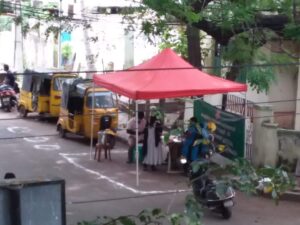 Since the past few months, Chennai Corporation has been holding regular fever camps in the neighbourhood, to prevent virus spread.
Now, civic workers say the number of people attending these camps has come down.
Says a civic worker attached to a local Ward, "Every day, we are holding camps at two streets in our Ward. One is held between 8.30 am and 11 am and another one is held from 11.30 am to 1 pm."
"But, only 30 to 35 (approx.) residents are attending the camps. The number used to be close to 160, a few months ago."
When asked why this is happening, she says, "As we hold a camp at the same street once every week or fortnight, people who tested say last week, are unwilling to attend camp, this week. Also, as Covid workers check their temperatures daily, residents say they don't see the need to again check themselves at fever camps."
However, she says, residents who have virus symptoms voluntarily drop-in. "Covid workers (sector workers) too continue to check people for virus symptoms and ILI (Influenza-like Illness) cases during their door to door survey."
Another civic staff who organises fever camps also echoes similar views.
She says, "Generally, we hold a camp at a street where virus cases have been reported the previous day. Now, in some cases, relatives of virus-positive person or neighbours themselves are unwilling to attend camps. We then spread awareness and persuade them for testing."
Few other residents, especially senior citizens, she says, are unable to attend camps as they find the camp location far from their houses.
"In such cases, we send mobile vans and collect nasal/ throat swabs from their doorstep. We also suggest people to visit swab collection centre at Chennai Corporation's AIDS prevention and Control society near Thiruvalluvar statue off R.H. Road for sample collection."
Picture Courtesy: Hariharan Ramanath