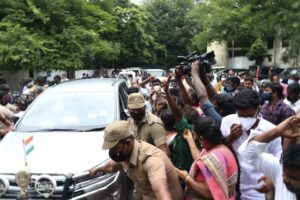 The past few days, there is some drama that takes place off Greenways Road in R. A. Puram, home to the residences of judges and state ministers besides private residences.
The developments inside the ruling AIADMK party is spilling over here since the main actors live here. In the run-up to the next state Assembly elections, the party is debating as to who must/should be projected as the chief ministerial candidate. And the tug is between the duo who helm the state management currently, chief minister Edapaddi Palaniswami and his deputy, O. Pannerselvam, now known as EPS and OPS.
Their supporters in the AIADMK are now seen demonstrating their camps' strength.
On Wednesday, Sept.30 some 100 plus supporters of Pannerselvam gathered outside his residence, expressing their support, with slogans rooting for him to be projected as the CM to come.
OPS has been having meetings with senior leaders at his residence and elsewhere and when he drove back home, party men and women cheered and hailed him on.