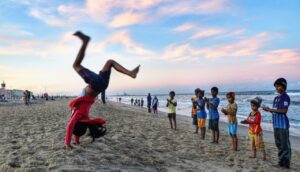 The Marina beach is the city's most attractive and populated open space.
And this Sunday evening ( Sept.6), the Sunday the lockdown was revoked after it came into force late March this year because of the pandemic, scores of people came out to the Marina to get some fresh air and spend time in the open.
Since 4 p.m., families who could not access the main section of the Marina – the Anna samadhi to Light House end is barricaded and patrolled by police even today – they went down to the sands south of the Light House side.
While most sat on the sands and enjoyed the breeze, others went down to the waters and had some fun.
As dusk fell, the Marina Loop Road was packed with bikes and cars of people who had visited the seaside.