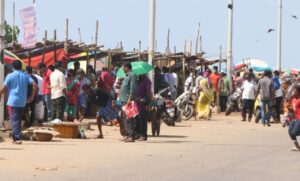 Life normalised the way it has always been this Sunday, Sept.6, the first Sunday not to have a total lockdown. The state had ruled that all Sundays since late March be total lockdown days, banning even local travel and functioning of shops.
But today, the buzz of what could be called a free Sunday could be witnessed in all the market areas across Mylapore.
Seafood lovers were early at the hawker stalls on Marina Loop Road, falling over each other to locate the best deals and shop quickly. Gone was a recent rule by local police where people headed here had to park their bikes and cars on the service road behind the Light House. Most people and hawkers wore face coverings but others were simply careless.
Similar was the scene this Sunday morning on Bazaar Road, a congested area off Kutchery Road where people shop at the large number of stores that sell provisions, meat, oil , vegetables and essentials.
Most neighbourhood shops in Mylapore and Mandaveli, Alwarpet and R. A. Puram opened for retail business and though the main roads and streets did not see heavy traffic of movement of vehicles, people were moving around to go about their business.