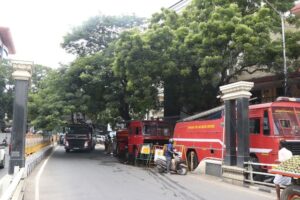 Tamil Nadu Fire Services reported a medium fire that broke out this morning in a building on TTK Road in Alwarpet.
A private company seems to occupy all the floors here and the fire is said to have broken out at about 10 a.m. on the 4th floor but was not intense.
Three fire engines got to the accident spot, near the north end of the flyover on this stretch that runs down to C. P. Ramaswamy Road on the other side,  and opposite the campus of Narada Gana Sabha.
It could not be confirmed if people inside the complex were injured.