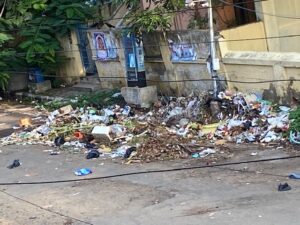 Garbage has been mounting close to the Chennai Corporation community hall on Luz Avenue, adjacent to Nageswara Rao Park near gate for the past two weeks, say local residents.
They say that though there are old garbage bins, people tend to fling the waste all around them and this creates a civic issue here.
The Rajans, who are local residents say that civic agency staff clear only the waste in the bins and the waste thrown all around is left as is it, thus making a mess in this area.
Meanwhile, garden waste and garbage that was dumped on the pavement of Rama Rao, in the same area was finally cleared after it lay there for a fortnight. This happened after community activist C R Balaji complained to the local conservancy inspector that action was not taken on his online plaint on this issue.