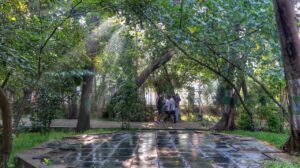 The compulsive, early walkers at Nageswara Rao Park in Luz enjoyed sights you rarely get to see in a crowded, busy neighbourhood.
Walkways still wet after the early morning rain, spaces carpeted with fallen flowers, sights of flowers blooming and insects crawling all over the lawns and mud paths.
Thursday, September 3 was the second day since the park re-opened as pandemic time regulations were eased by the state and there were some two dozen walkers inside the park this morning.
A staffer checked the temperature of all those who walked in and kept an eye on people's movements too.
One senior Mylaporean said that he was glad to be back at his favourite space and hoped that people would keep social distance when more and more of them start frequenting the park.