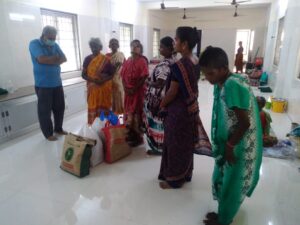 Community activist Baskar Seshadri recently reached out to elderly women at a newly opened old age home in TTK Road (near Music Academy), Alwarpet.
The home, shelters some 18 women, all aged above 55 years.
Says Baskar Seshadri, a Mandaveli resident, "As part of my biscuit and tea service to front line workers, I have also been reaching out to inmates at this home."
"Yesterday (Sept.2), when I knew these women urgently needed clothes, I immediately put out this message on my Facebook page."
Soon, Baskar says three of his friends – SY Ramakrishnan, Mala and Sundar Krishnan besides others volunteered to help.
As most of them were locals, Baskar then quickly drove down to their houses in Mylapore and collected the clothes. "We managed to get around 20 saris and other garments, that were in good condition." He then donated it to the old age home on the same day.
"All the women there were very happy to receive the clothes," Baskar says
Picture courtesy: Baskar Seshadri