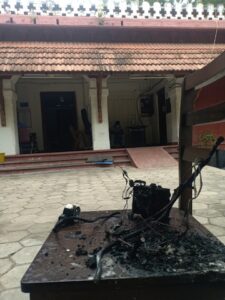 A minor fire broke out in the office of the Deputy Commissioner of Police for Mylapore zone on Kutchery Road early this Friday morning.
The stabiliser inside seems to have broken down after an electrical problem and smoke was seen coming out of the office windows.
A Fire Service engine was called to the scene and firemen put out the fire, took out the equipment that got burnt and dumped it outside.
There was no damage caused inside the DCP's office which is located in the campus of the Mylapore police station.