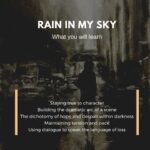 The 'Rain in my Sky' fiction writing workshop for those exclusively between 28 and 45 years of age, will look at building characters and scenes that navigate the choppy waters of loss and grief.
Over four weekend Zoom sessions, participants will learn how to use dialogue to speak the language of loss, the dichotomy of hope and despair within darkness, how to maintain tension and pace in a scene, and how to remain true to the voice of the character.
The workshop is from September 19 to 27 and is priced at Rs. 5,500. To register, write to workshops.pra@gmail.com.
Praveena Shivram is an independent writer based in Abiramapuram. Over the past 15 years, she has written for several national publications, and her fiction has been widely published. Read her work at www.praveenashivram.com.