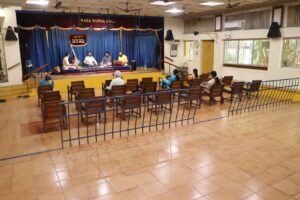 One of Mylapore's popular sabha halls came alive top of this week when it hosted three music concerts on three mornings ( Sept.14 – 16).
Though these concerts were only for the purpose of webcasting and the hall was not open to rasikas, the very act of hosting concerts was a new development in the pandemic times.
Naada Inbam hosted the concerts of K. Bharat Sundar on Monday, Amrita Murali on Tuesday and of flutist J A Jayanth on Wednesday mornings.
Besides the main and accompanying artistes on stage, there were a handful of people seated in the chairs which had been kept far apart in the front portion of this hall.
The concerts are webcast at 6;15 pm every evening at www.youtube.com/parivadinimusic and are open to all. The list of songs are also listed on the channel's page.