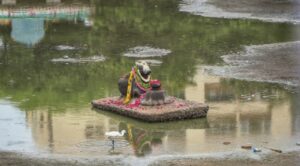 At Sri Kapaleeswarar Temple, Mylapore, devotees will not be allowed inside the temple during important events like the Pradosham.
The latest pradosham was held on Sept.15 evening and the regulations, as directed by the HR&CE Dept. of the state were observed.
The executive officer of the temple, D. Kaveri, told Mylapore Times on Wednesday, "Pradosham is usually held between 4 and 6. in the evening. The regulations for devotees are written on the noticeboard in advance so they all get to know of them.
"Devotees can come to the temple after 6.30 p.m. as they will not be allowed to enter the temple when the event is being held."
The officer said that her team is following the standard operating procedure as stated by the state government in this regard.
No tickets or special passes will be given for these events,, she added.
She also said that they have changed the exit point at the temple.
"Devotees were initially asked to enter via the door at the east gopuram and exit via the door at the west gopuram. But now since the devotees were finding that arrangement difficult, we have now opened up the other gate near the Saneeswaran sannidhi right next to the east gopuram. Devotees can now exit via that gate".
This follows plaints made by senior devotees who found they had to walk without footwear a long distance after exiting from the gate to the footwear stall.