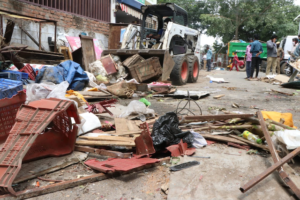 Yet another hawker stalls clearance operation was conducted on South Mada Street, Mylapore on Monday morning by Chennai Corporation.
This time, using small machinery the civic workers not only cleared the wooden boxes and packing materials that hawkers use to set up the vegetable stalls on this street but smashed and removed their belongings which they mostly stock on Adam Street after the day's sales are done.
Also, in the South Mada Street – Adam Street area, the workers used their equipment to knock down name and sign boards and display materials of shops here which encroached on or jutted out on to the streets.
However, the operation was limited only to this area on Monday.
Community activists say that that such limited seasonal operations do not have any affect since the hawkers are back to their trade in 24 hours and shops in all areas of Mylapore use pavement and street space to extend their premises or showcases and display boards.
They point to misuse of public space on Royapattah High Road, Kutchery Road, on all the mada streets, R, K. Mutt Road, Mandaveli Street, San Thome High Road, TTK Road and Luz Church Road besides elsewhere where shopping hubs operate.