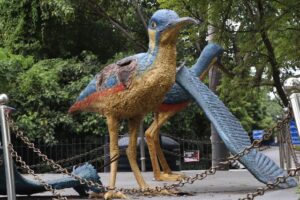 This giant bird has now lost its wings!
Two giant birds – sculptures, made from mud, gravel and cement and set up at the small traffic island at the Foreshore Estate traffic junction need attention.
These were set up by Chennai Corporation at many traffic islands in the city to add some colour to the city's roads.
Last weekend, one bird lost its wings – they seem to have worn out and dropped on the pedestal.
This traffic island is alongside the edge of the Adyar Poonga's wall at the end where South Canal Bank Road joins San Thome High Road – D G S Dinakaran Road.