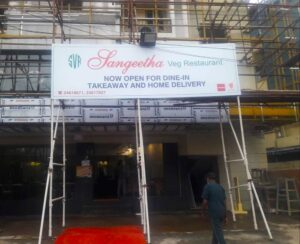 Months after it was closed for renovation, Sangeetha restaurant has re-opened at San Thome High Road, Patinapakkam.
Fitted with brand new Korean table tops and wooden chairs, the restaurant is now open for dining at its non- AC hall, located on the ground floor here.
Renovation, however, is still on at its AC dining hall, that is on the first floor of the restaurant.
To prevent virus spread, the restaurant seats only two people on four-seater tables. Also, food is served only on banana leaves.
Says manager at the restaurant, "If we were to use plates, we would have to sanitise dozens of it. Hence, to reduce the workload on our staff, we switched to banana leaves. They are disposed off after use."
"In addition, every day, we also check the temperature, pulse and oxygen saturation of all our employees and record it on a sheet of paper. A copy of it is also pasted at the entrance of the restaurant for customers to see," he says.
Besides its regular dishes (idli, dosa), some specials like mushroom masala dosa, paneer masala dosa and maharaja masala dosa (masala is made using a mix of veggies) are available at this restaurant now. Rava pongal, and thenga kichadi are also new additions to its menu.
Open from 7 am to 9 pm on all days. Takeaways too are offered from here. Door deliveries provided via Swiggy, and Zomato. Free home delivery offered in and around 4 km of the restaurant. Ph: 24616671/24617557
Picture courtesy: Baskar Seshadri