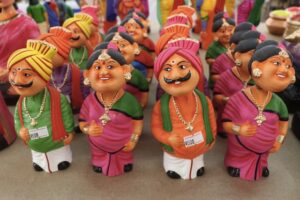 C. P. Art Centre's annual Navaratri kolu sale has begun and will be on here till October 18.
Besides the standard variety of bommais of religious and social themes, there are what hawkers call kolu sets – bommai sets themed on seemandam, wedding, village marketplace, kutcheris and the like.
The bommais are sourced from various craftsmen across Tamil Nadu.
The Centre's manager Shantha says that this year, they have sourced and displayed miniature brass pieces of religious and social figures.
The sale is open from 10 am to 8 pm on all days including Sundays.