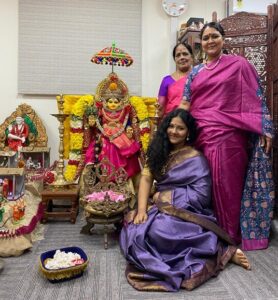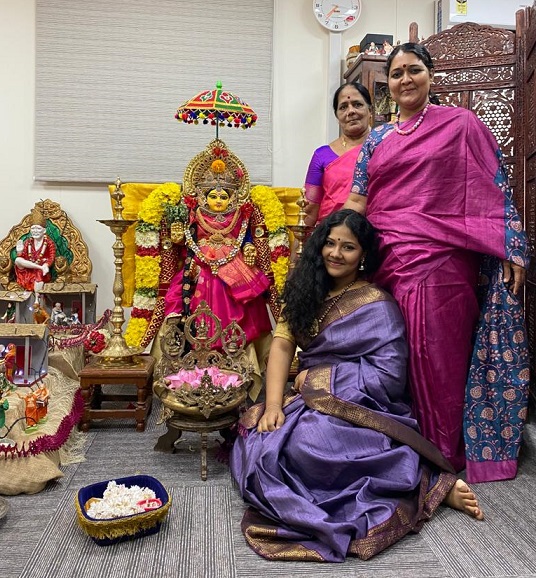 Come Navarathri, Shobana Raj's family gets very busy.
In addition to setting up the kolu, which her mother Prabha Krishnamurthy has been doing for 44 years now, it has been a long-standing tradition in this family to decorate their kalasam in a unique way, in the likeness of goddess Ambal. This year her daughter Rujula pitched in to help too.
Shobana says, "Usually before we decorate the kalasam we decide if we want the goddess to be standing or sitting that year. If we choose a sitting position like we did this year, we first place a coconut and mango leaves over the brass vessel (sombu) and then fix the face of goddess Ambal, which I got from Calcutta, onto it. We then decorate it with a saree, ornaments, jadai and garlands. If we choose a standing position, we decorate a tall (almost 5 feet) kuthuvilakku (lamp) that we have with us".
The saree that Shobana usually wears for Diwali is bought before Navarathri and is first adorned by the deity on the kalasam. That has been yet another tradition in her family for many years now.
This year, the family had one main five-step kolu which had the idols of goddess Ambal from different temples and three smaller ones including the kalasam. Her three-step kolu on the stories from Shirdi Sai Baba's Sai Sathcharitam had dolls made by her with cloth and paper mache.
She says, "The main kolu has several old dolls. There are a few dolls which were passed on to my mother by my grandmother and they are almost 95 years old. All of them are made of clay and they have been repainted a few times".
Her other three-step kolu has images of other deities like Calcutta Durga, Sri Dakshinamoorthy, Sri Maha Periyaval, Karthikeya Pengal and Sri Annamalaiyar.
Shobana says this year, due to the pandemic, she has had to cut down on a few traditions.
"One thing that we do every year is set up the kalasam on the swing that we have in our living room. Friends and relatives who drop in take turns to move the swing as they sing bhajans and songs. I really miss that. This year, we have set up the kolu in a separate room on the terrace. We haven't invited people home: my father is a septuagenarian and we did not want to increase his risk of infection in case someone decides to drop in".
She also says that they usually keep nine steps for the kolu every year but since she didn't have help this year, she had to make do with five steps.
Shobana, who is very particular about not using plastic, says she has been sending tamboolams to her friends through Dunzo. Her cloth bags have pakku and manjal wrapped in newspaper bits. She has also included masks in her tamboolam bags this year.
Shobana is a resident of Kargapam Avenue, MRC Nagar. She can be contacted at shobanaraj77@gmail.com.