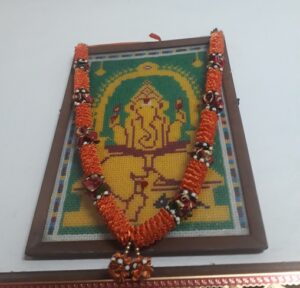 Amsa Arumugam, a senior resident of Nallappan Street, Mylapore practices a challenging craft. She uses beads to make pictures of Hindu deities like Murugan, Ganesha and Perumal, thoranams and other decorative articles.
Amsa says she first learnt this skill when she was 15 years old. She did it for a while and then switched over to tailoring in her 20s.
Her job, stitching shirts, in an export company and family obligations kept her busy for the next few decades.
During the lockdown however, when she realized that she had a little time on her hands, she decided to revisit her beading skills.
She buys the beads in bulk from George Town markets and then uses a small thin plastic wire to string the beads. She says, "It is a very laborious process. One picture takes at least 15 days from start to finish, that is if I put in about four hours of work everyday. And each picture has about 1000 beads, sometimes even more".
Amsa made ten such pictures during the lockdown.
She didn't sell any of them but has given it to relatives and friends and has gifted it during events. She says, "I want the next generation to learn this skill and so I am willing to teach this to anyone who wants to learn".
Amsa says she is now accepting orders for her beaded pictures. For details contact her at 42118481.