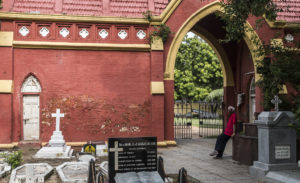 The Christian community observes All Souls Day on November 2 – a day to pray for all those who have passed away in their families and to reflect on life and death.
Many families visit cemeteries to pray at the grave/s of those who have passed away.
But this year, due to the pandemic situation, the local Church has decided not to open the cemeteries to visits by people nor hold religious services.
Normally, hundreds of people visit cemeteries to pray and lay flowers at graves. Often, local area priests bless all the graves and some say Holy Mass on the campus. But this year, all this has been cancelled.
The priests at Our Lady of Guidance Church, R A Puram which manages the Chennai Corporation graveyard for Christians located on St Mary's Road ( off Jeth Nagar colony) are preparing to put out notices and send a communication to the community in this area and around of the cancellation of graveyard visits on All Souls Day.
"We will be cleaning the campus soon but the gates will remain closed on Nov.1 and 2," said Fr Joseph, assistant parish priest at the Lazarus Church Road church.
The same rules will also apply to the Quibble Island Cemetery on Dr DGS Dinakaran Road, near the Sri Ayyappan Temple. This cemetery ( featured in the photo here) is managed by a Board of the local churches and hence is a private one.