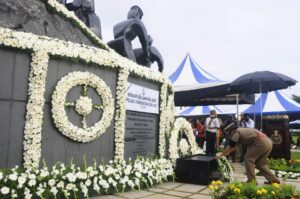 October 21 is observed as Police Commemoration Day across the country; a day to celebrate the achievements of the police and to salute the men who laid down lives at duty.
And so, at the Tamil Nadu DGP's office campus off the Marina, this morning, senior officers of the state's police force led by Director General, J K Tripathy, took part in a snappy event held around the giant sculpture in the campus that celebrates the police.
Wreaths were laid, the police band was in attendance and a gun salute was executed for this occasion.
Tents had been put up all around the focus point – the sculpture – since there was a hint of rain and the police band and policemen taking part in the ceremony could get some protection.