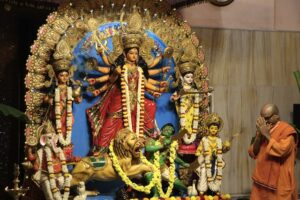 The annual puja celebrations at the Universal Temple of Sri Ramakrishna Math in Mylapore are grand and well organised, the focus being on Durga and Lakshmi puja.
This year though, while the rituals and celebrations remain unchanged, people who wish to visit the temple will have to follow regulations due to the pandemic and be in during specific timings .
The annual puja celebrations started on Thursday morning and will go on till Oct.26, with the celebration of Lakshmi Puja that day.
Pujas are held every morning while aarti and bhajans take place in the evening, 6.15 p.m. onwards.
Math members say that people will not be allowed inside the temple only during aarti. The darshan timings for the public are 8 – 11 am in the mornings and 4 – 6 pm in the evenings.
Guests must wear face masks, get sanitised and keep a distance while moving in a queue once they drop into the temple campys on R K Mutt Road.
The key events of the puja celebrations at this temple are also being webcast live – the link will be on the Math's website – https://imedia.chennaimath.org