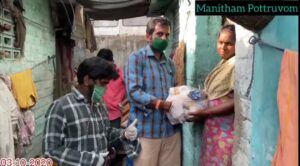 Through the lockdown, this group of volunteers have been going out of their way to help the homeless and the poor from across Chennai.
Started by Nochikuppam based Vivek, the 'Manitham Pottruvom' team has so far reached out to over 3000 underprivileged families with dry rations.
And hundreds of homeless persons with food.
Although their service continues until now, it has slowed down as donations have dwindled for them.
Their charity work started soon after the lockdown in March.
Using donations offered by volunteers and well-wishers, the team has been helping at least 100 homeless persons with a day's meal on weekdays. And on weekends, they have been providing all three meals to around 300 to 400 street dwellers.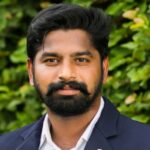 Says Vivek, an IT professional, "Donations that used to come from members outside our group has dried up."
"With more funds, we will be able to continue our service and reach out to a larger number of people. It will be very helpful if people could donate even Rs 30," he says and adds, "Our ultimate aim is to create a nation free of hunger."
Besides, the group also distributes clothes and bedsheets to the homeless.
"We have also been reaching out to Covid affected families in slum areas, by helping them with essentials." Their help has reached migrant labourers, Irula and Narikurava communities in and around Chennai too.
Plus, the team has also been feeding street dogs and doves.
People who wish to contribute may call Vivek at 9566041681.