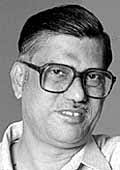 The former chairman and managing director of Chennai-based Indian Bank, M. Gopalakrishnan passed away late on Wednesday. The funeral was held the next day. He resided on Dr. Ranga Road, Mylapore.
He was 86.
In the 1980s and 90s, Gopalakrishnan was the most high profile honcho of Indian banks, seen at a variety of events across the city, in Tamil Nadu and outside – be it the launch of a large store or a gala  film function or a large community meet besides business and banking meets.
His father, Radhakrishna Pillai was mayor of Madras in the 1940s and is said to have introduced many local reforms.
Gopalakrishnan rose from the ranks to become Indian Bank's top honcho at a time when India was moving into the era of liberalisation. He is credited with supporting many start-ups, business expansions and educational and medical institutions which went on to grow and expand, all due to the bank's welcoming support.
He enthusiastically supported sport and arts bodies too.
The buzz then was that Gopalakrishnan was ever enthusiastic to fund projects and this encouraged lots of people and groups and businesses to take large loans. Not all repaid the loans, others' deals were questionable and Gopalakrishnan and the bank landed in many controversies.
He got record extensions as CMD. When he stepped down, the bank showed losses for over Rs.1300 crores. Probes were initiated by the CBI.  Many cases were filed against him and his colleagues; he was convicted in a  few and acquitted in one but the cases and appeals dragged on and on.
Gopalakrishnan also joined politics after his banking tenure and was in at least three different parties. He was also leader of his community of Yadavas and is said to have done much for its welfare.
He is survived by his wife and daughter.