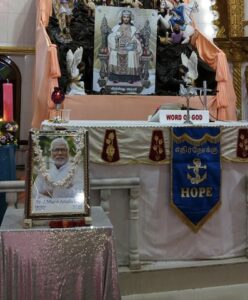 Rev. Fr. J. Amalraj, vicar-general of the archdiocese of Madras-Mylapore, passed away on November 17 after completing 43 years of priesthood.
He was a member of the Our Lady of Guidance Church parish also known as saint Lazarus Church and  is till date, the only priest from this parish who was ordained here.
As a mark of respect to the memory of this late, senior Catholic priest, the parish priest of saint Lazarus church, Rev. Fr. Y. F.  Bosco offered all the six Holy Masses held on Sunday ( Nov.29) for the repose of the soul of Rev. Fr. Amalraj.
At one Holy Mass, Fr. Bosco also spoke about the late priest.  A framed photo of the priest, adorned with jasmine flowers was placed in front of the altar.
– Report and photo by Juliana Sridhar