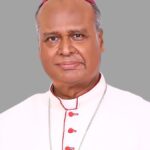 Archbishop of Madras-Mylapore diocese for the Catholics, Rev. Dr. George Antonysamy has reached a new milestone in his priesthood. Today, November 19, he celebrates his ruby jubilee – which means he has completed 40 years of priesthood.
Recently, Rev. Antonysamy was appointed as a member of the Congregation for the Evangelisation of Peoples by Pope Francis.
He is based at the Bishop's House in San Thome, adjoining the San Thome cathedral.
Rev. Antonysamy was ordained as a Catholic priest on November 19, 1980 in Trichy. After his ordination, he served as assistant parish priest at the Holy Redeemer's Minor Basilica at Trichy.
He later went to Rome for higher studies and completed his grad studies in philosophy and later, the masters in theology at the Pontifical Urban University in Rome.
He was later appointed as Charge d' affairs of the Vatican embassy in Jordan in 2002 by Pope John Paul ll. He was also elected as Titular Archbishop of Sulci in Sardinia  in 2005.
He had his episcopal ordination on September 21, 2005 in his hometown Trichy. He was also appointed as the Apostolic Nuncio to Gambia, Liberia, Guinea and Sierra Leone and he holds these positions till date.
He was appointed Archbishop of Madras-Mylapore diocese by Pope Benedict XVl on November 21, 2012. He was elected Vice President of the Conference of Catholic Bishops of India in 2017 and re-elected in 2019.
He is currently the chairman for the St. Johns National Academy of Health Sciences at Bengaluru.
Report by Juliana Sridhar