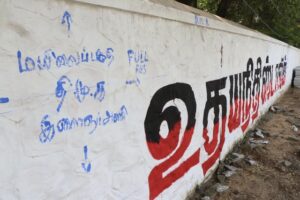 Have you noticed the walls of abandoned properties or state-managed campuses? The signs of preparations for the May 2021 elections to the state Assembly are all over the place.
Every political party's cadres and units in the Mylapore zone have engaged painters and artists to paint teasers and blow up the names of the party's state leaders as well as the local area thalaivars.
Since late October, scrawled on many a wall was this 'Reserved for 2021'. In course of time, the painters got to work.
In some places, local units of political parties put the 'reserved' wall space to good use – painting messages that are for the times like the leader's birthday or an anniversary.