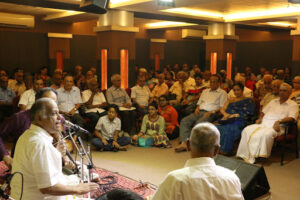 For Carnatic music rasikas and artistes, the Arkay Convention Center (ACC) in Luz is a familiar destination. That is because this well-designed and cosy hall is the venue for classical music concerts on most days of the year.
This evening, November 20, Arkay Convention Centre is celebrating its 10th anniversary. And due to the pandemic conditions, it is webcasting a nagaswaram concert by the well-known artiste, Injikudi Subramaniam.
Promoted by Ramakrishnan, who runs a stocks broking business, Arkay came into existence when RK, as he is called by friends decided to redesign his sprawling office space and create an auditorium that would give a feel of a chamber concert space.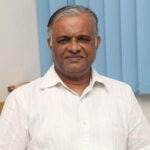 While the space has been let out for small business meets, RK has focussed on hosting Carnatic music concerts, discourses and talks on heritage, culture and religion.
He also floated his own arts organisation called Madhuradhwani which hosts concerts and music festivals.
The accoustics, the audio system, the cosy atmosphere and concerts by vidwans and vidushis has made this place a destination for Mylaporeans who cannot do without music.
Also, Arkay was quick to launch the webcast all the concerts held here though efforts to get listeners to pay for the facility has not earned much response.
Arkay Convention Centre is on Royaoettah High Road, diagonally opposite the Vivek store, on the third floor. Contact – 9962554080.
Photos: 1st photo is of a concert at ACC. 2nd photo is of Ramakrishnan; courtesy – Shabash.com