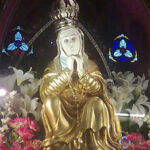 The annual feast of Our Lady of Mylapore, commonly referred to as Mylai Madha is being celebrated at the San Thome Cathedral from today, November 26. It will go on till Sunday.
Every evening, there is the recitation of the rosary, novena prayers and Holy Mass at the cathedral.
On Saturday evening, archbishop Rev. George Antonysamy leads the celebration of Holy Mass.
The feast comes to a close on Sunday evening, with the lowering of the flag dedicated to Mary and celebration of Holy Mass.
While Masses are being celebrated daily here only the religious and a few others are allowed access due to pandemic time regulations.
However, in other local churches people have been allowed to attend Mass but must follow strict regulations.