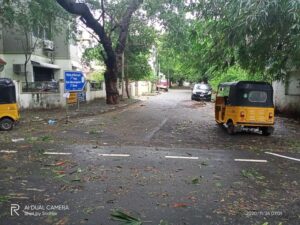 Due to cyclone 'Nivar' that made landfall near Puducherry, the neighbourhood witnessed heavy rains and strong winds on Wednesday. However, residents point out that the damage caused by the cyclone is less.
Abhiramapuram resident Sridhar Venkataraman reports that tree fall happened at only two places – one at Luz Avenue and the other at Justice Sundaram Road – in his neighborhood. "Not much damage happened at other streets. Only twigs and small tree branches had fallen."
Also, no water logging was witnessed in his area. "The stormwater drain built in previous years and RWH pits/wells on streets helped to drain rainwater."
He adds that there was no power cut during the entire time of cyclone landfall.
Prashanth, who lives at C. P. Koil Street, Mylapore too had similar things to share. He says, "Electricity was there. No water logging in my area. Few trees had fallen on the main roads. But they were cleared off soon."
Baskar Seshadri, a resident of Mylapore says that a tree got uprooted at C.P.Ramaswamy Road, between Kalpataru complex and Spencer's supermarket.
"Not much impact was there in our area," says Chitra Padmanabhan, a resident of Mandaveli.
Vidya, a resident of Alwarpet also said that damage caused by cyclone was less in her area. "There was water logging at Venus Colony First and Second Street. But Corporation workers immediately cleared it."
Photo used here was shot in East Abiramapuram – by Sridhar Venkataraman