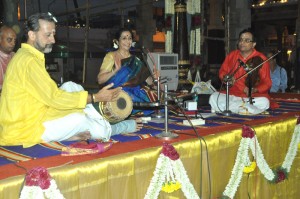 A clutch of sabhas in the city, including the well-known ones in Mylapore have decided to take the annual December Season of music and dance online this time.
This is being planned since live concerts inside auditoriums are being avoided in the pandemic time.
They are now curating a month-long series of concerts, Carnatic music and classical dance to be web cast from December 15 onwards.
There are plans to include a few Thamizh dramas too.
"All the concerts will be recorded at various auditoriums in Mylapore and in T. Nagar and canned and then webcast in December," said a member of the Kartik Fine Arts team in Mylapore.
Kalakendra is handling the production and webcast.
The schedule will be out end November.
A file photo has been used in this report.