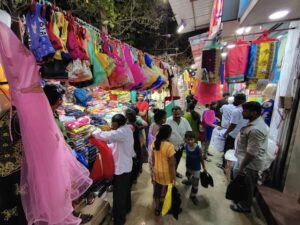 The facade of Vivek's store in Luz is brightly illuminated. As is its sister stores across Royapettah High Road.
Metres away, on Kutchery Road the well-lit showcases of Gani's, a popular clothes store for women are drawing in a steady stream of shoppers.
And the hawkers diagonally opposite the busy Luz Circle are a busy lot as people check out the new range of clothes for children and teens and footwear for adults and kids.
Deepavali shopping this year has not been what it has always been. The pandemic condition may have now seen an appreciable decrease in the Covid positive cases in this neighbourhood but many people have little money in the bank or in their purse.
Shopping is muted though on the eve of the festival, some shops witnessed a steady stream of shoppers.
Brisk shopping was on at the Thangavel Nadar shop that sells kitchenware and home essentials on R. K. Mutt Road, Mylapore.
Families were also seen checking out new arrivals at the large clothing store, Sri Kumaran – the women scanned the stock of Kanjeevarams and Tussar silks.
Adjacent to this store, scores of youngsters, mostly women were busy shopping churidars and ethnic-wear at Reliance Trends, making best use of the gifts and 10% cashback offer that the store had introduced for the festival.
Similar offers are dangled before shoppers at many other neighbourhood shops as well. Said one shop owner, "We want to see people come in and buy some clothes. It's been such a bad season the past months."
While the big stores ensured that shoppers wore masks and sanitised themselves, the clothes 'exchange' facility was not offered this year, in view of the pandemic regulations. Sri Kumaran store also restricted the use of 'trial room' by shoppers as a precautionary measure.
The big buzz was witnessed at the hawker stalls off Luz Circle – these stalls have readymade shirts, kurtis, footwear and women's accessories like hair bands, clutchers, bindis, bangles and more.
They cater to people who have very little money to spend this Deepavali. And much of the shopping was for children who carried home new clothes and footwear.
Sales  at many makeshift fire-cracker shops that are set up at different parts of the neighbourhood – in Luz, R. A. Puram and off R.K.Mutt Road were slow.
And at the popular jewellery stores on North Mada Street, Mylapore we did not see too many shoppers inside.
(()) WATCH THE SHOPPING BUZZ SLIDESHOW at www.youtube.com/mylaporetv