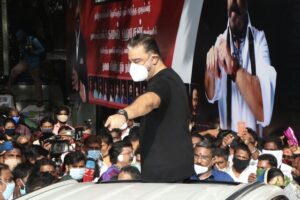 Actor-politician Kamal Hassan celebrated his 66th birthday today, November 7 and it was a celebration that was more political than social.
This morning, Kamal drove down to the office of the political party he heads, Makkal Needhi Maiyam (MNM) located at Eldams Road in Alwarpet and was greeted by some one thousand-odd fans and party cadres.
People had begun to assemble outside the office next to the popular Samco restaurant under the shadow of the Alwarpet flyover, as early as 7 a.m. and when Kamal Hassan's car got close to the office the fans and cadres broke into a jig, hailed the man of the moment, waved to him and shot pictures.
A nadaswaram-tavil team of artistes provided the music for the occasion.
Kamal Hassan used the occasion to talk about the focus of the MNM party. With state Assembly elections due in May 2021, the party has already sounded the bugle, saying it is the third largest party in the state and that it is not considering issues like political alliances at this moment.
In fact, Kamal Hassan has already announced the first leg of campaigning in the weeks to come.