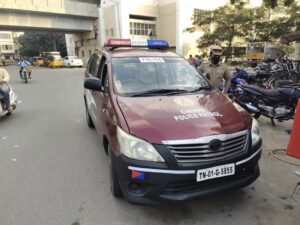 Chennai City police commissioner, Mahesh Aggarwal recently has asked his police personnel  serving at all police stations to park their patrol cars at important places in each zone and accept complaints from the public on the spot and then formally register them.
The idea is to bring the police facility closer to people.
This new order is now followed by the police stations in the Mylapore zone – Mylapore, Abiramapuram and Foreshore Estate.
Each patrol van follows a timetable and police staff stand outside the van to meet people if they are approached on issues related to crime and law and order / traffic.
This is the schedule –
Luz Circle – 11 am to 1 pm.  Ambedkar Bridge ( behind Citi Centre Mall) – 3 to 5 pm.
School View Road junction ( R A Puram) – 10 am to 1 pm. Visalakshi Thottam – 3 to 5 pm
MRC Nagar – 11 am to 1 pm.  West Circular Road, Mandavelipakkam – 3 to 5 pm.