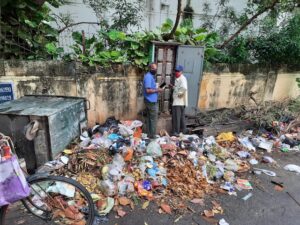 The transition of garbage clearing operations from the old agency, Ramky to the new which is Urbaser Sumeet is taking time to be understood by many Abiramapuram residents.
At the junction of Abiramapuram 4th Street and Sundararajan Street the garbage is now a dump with waste thrown all around the old, rusty abandoned garbage bins.
This photo shows the amount of waste that gathers here in 24 hours.
Local area BSNL staff who came to attend a customer complaint this Wednesday morning found it a challenging task to wade their way through the garbage to access the local junction box.
The staff of Urbaser Sumeet have been moving in their e-autos, house to house picking up the waste but some residents continue with their old habits – flinging domestic garbage around the spot they are used to.
In the new system, residents must hand over their segregated waste to Urbaser staff and not dump it at street corners; in course of time, such violators will be fined.
Urbaser has to also set up a few bins in local streets which generates a lot of waste.
– Report, photo by S. Prabhu