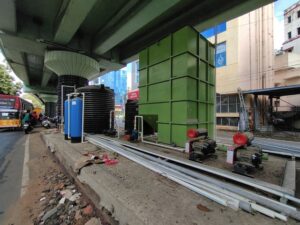 Work on raising greenery on the pillars that support the flyovers in the Alwarpet zone is going on now.
The space below the flyovers at the Music Academy junction and at the Alwarpet signals junction is witnessing hectic work the past few days.
First, grids were set up around all the pillars of the flyovers. These grids will hold dozens of potted plants that will hopefully thrive without much sunlight.
Now, huge tanks and motor sets have been set up; these tanks will hold recycled water which will water the plants on the grids.
Previous attempts to landscape the area below the flyovers have not been very successful, with plants drying up and the space being treated like waste dumps.